2015 marks the 13th anniversary of the U.S. Open Brass Band Championships.  The U.S. Open Brass Band Championships is a annual one-day competitive event for traditional brass bands from around the nation!   Tickets – $25 available through the website at: http://www.usopenbrass.org
U.S. Open Participants:
Fountain City Brass Band – Kansas City, MO
Madison Brass Band – Madison, WI
Prairie Brass Band – Arlington Heights, IL
Eastern Iowa Brass Band – Cedar Rapids, IA
Dublin Silver Band – Dublin, OH
Promoting the Brass Band in North America
The goal of this competition is to encourage the further growth and development of the brass band movement in North America by providing a unique and exciting forum for the participating bands and by promoting the highest standards of performance and entertainment.
Entertainment Contest Format
Towards this end, the U.S. Open is an entertainment contest in format, which is unique among brass band contests in North America. No test piece will be required. Instead, each band will perform a 25-minute set of music of their choosing. Standard brass band instrumentation is required, with a limit of 30 performers plus Conductor for each competing band. Judging will be open, and the adjudicators will be among the finest and most experienced available.
Prizes awarded
Along with a cash prize and trophy, the winning band overall will be crowned U.S. Open Champions, while awards and prizes will also be offered in several other categories, including Most Entertaining, Best Performance of a March, Best Soloist and Best Performance of a New Composition or Arrangement.
Buskers Contest
One of the favorite features of the day among audiences and band members alike has become The Buskers Contest. This is a fresh look at the traditional solo and ensemble contest. The "Buskers" allows bands to showcase their individual or small ensemble talents while also keeping the entertainment flowing throughout the day. The loose format is designed to encourage bands to make the most of the opportunity and be creative. The contest will be held in between band performances while other bands are setting or striking their stage. A "Mystery" judge in the audience will decide the winner and the "trophy" for this event is a top hat and loose change!
---
Yamaha Sponsors U.S. Open Brass Band Competition
Brass Bands International has entered into a corporate partnership with Yamaha Corporation of America to sponsor the U.S. Open Brass Band Championships.
"Yamaha's international presence and its full range of professional and custom level brass and percussion instruments puts the company in a unique position to contribute to the growth of the brass band movement in North America," said Clark Niermeyer, President, Brass Bands International. "Yamaha's partnership with our organization will help assure that brass bands will continue to thrive in America." Read Full Press Release
Tickets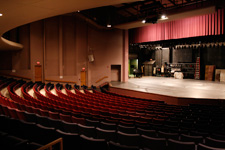 Spectators are the primary reason for the success of the U.S. Open Brass Band Championships. We value your participation and hope to provide you with entertainment that you won't soon forget! Our venue is the beautiful Norris Cultural Arts Center in St. Charles, IL. Please plan to join us for a relaxing day of fun and entertainment. Doors open to the public at 9:15 AM. Contest Starts at 10:00 AM. There is a one hour lunch break from 12:15pm – 1:15. Contest concludes at 3:00 PM.
Saturday, November 7, 2015, 10:00 AM – 3:00 PM
Norris Cultural Arts Center
1040 Dunham Rd
St. Charles, IL 60174
Buy Tickets Now
Tickets may be purchased at the door on the day of the event.
Click here for complete map: http://eibb.us/2u
9:15 AM Main Doors Open to Public
9:45 AM Introductions
10:00 AM Fountain City Brass Band
Performance
10:30 AM #1 Busker –
#2 Busker –
10:45 AM Madison Brass Band
Performance
11:15 AM #1 Busker –
#2 Busker –
11:30 AM Prairie Brass Band
Performance
12:00 PM #1 Busker –
#2 Busker –
12:15 PM Lunch Break
1:30 PM Eastern Iowa Brass Band
Performance
2:00 PM #1 Busker –
#2 Busker –
2:15 PM Dublin Silver Band
Performance
2:45 PM #1 Busker –
#2 Busker –
3:00 PM Contest Concludes