Here is a nice review of the EIBB's concert performance in Oelwein, Iowa on Sunday, March 1st:
OELWEIN – On Sunday, March 1, the Eastern Iowa Brass Band based in Mt. Vernon, performed at the Williams Center for the Arts. According to Doug McFarlane, director of the Williams Center for the Arts, the audience of around 250 was treated to brass band music at its best.
This concert was the first performance in the William's Center March Madness musical blitz, and according to McFarlane, it was nothing short of phenomenal. The band includes around 50 musicians from high school aged to 70 plus. He said it was obvious these players have dedicated themselves to attaining a high quality of musicianship.
McFarlane expressed, "The Eastern Iowa Brass Band is one of the finest brass bands in the United States. They have toured the Midwest as ambassadors for Iowa.  Brass bands perform a variety of music, but are most known for marches and hymns."
A couple of the hymn tunes performed were: "How Great Thou Art" and "Abide With Me."  The final selection on the program was Henry Fillmore's march "The Circus Bee."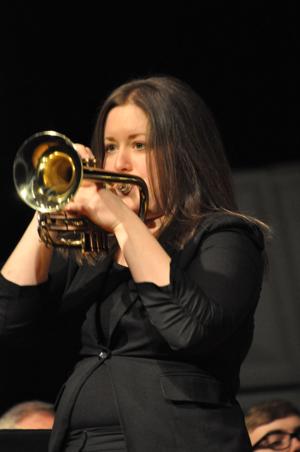 Laura Saylor plays a beautiful solo during the EIBB's performance at the Oelwein Williams Center for the Arts on Sunday, March 1.